Pseudorabies-virus (gB) PCR-opsporingstel
Produkbesonderhede
Produketikette
Pseudorabies-virus (gB) PCR-opsporingskit (gevriesdroog)
48 toetse / kit, 50 toetse / kit
Hierdie kit gebruik intydse fluoresserende PCR-metode om die RNA van die Pseudorabies-virus (gB-geen) (PRV) op te spoor in weefselsiekte-materiale soos mangels, limfknope en milt- en vloeibare siektemateriaal soos entstof en bloed van varke. Dit is geskik vir die opsporing, diagnose en epidemiologiese ondersoek van die Pseudorabies-virus (gB-geen). Die kit is 'n ALL-READY PCR-stelsel (gevriesdroogde) wat die DNA-amplifikasie-ensiem, reaksiebuffer, spesifieke primers en probes bevat wat benodig word vir die opsporing van RT-PCR.
Komponente
Pakket
spesifikasie
Bestanddeel

PRV PCR Mix

1 × bottel (gelyofiliseerde poeier)

 

50 Toets

dNTP's, MgCl2, Primers

, Probes, Taq DNA polimerase

6 × 0,2 ml 8 goed-strookbuis

(Gevriesdroog)

48 Toets

Positiewe beheer

1 * 0,2 ml buis (gevriesdroog)

 

10 Toetse

Plasmide of Pseudovirus wat PRV (gB) spesifieke fragmente bevat

Oplossing

1,5 ml Cryotube

500 uL

/

Negatiewe beheer

1,5 ml Cryotube

200 uL

0,9% NaCl
(1) Die kit kan teen kamertemperatuur vervoer word.
(2) Die rakleeftyd is 18 maande by -20 ℃ en 12 maande by 2 ℃ ~ 30 ℃.
(3) Sien die etiket op die stel vir die produksiedatum en die vervaldatum.
(4) Die gevriesdroogde poeierweergawe-reagens moet na die oplossing by -20 stored gestoor word en die herhaalde vries-ontdooiing moet minder as 4 keer wees.
GENECHECKER UF-150, UF-300 intydse fluoressensie-PCR-instrument.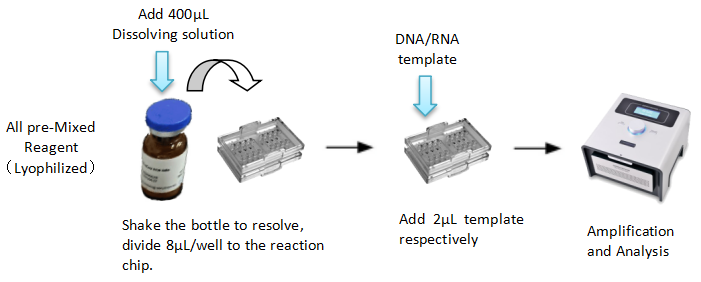 b) 8 goed-strook buis weergawe: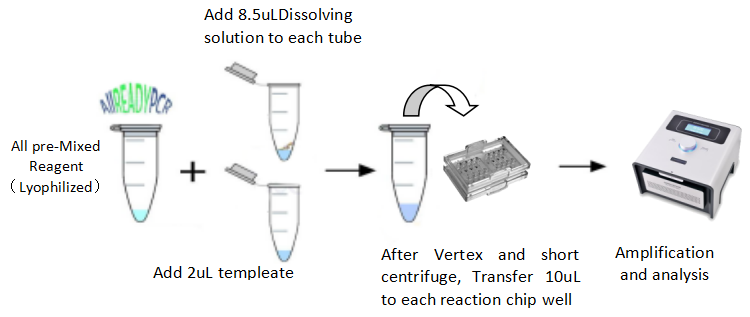 Aanbevole instelling
Stap

Siklus

Temperatuur (℃)

Tyd

Fluoressensie kanaal

1

1

95

2min

/

2

40

95

5s

/

60

10s

Versamel FAM-fluoressensie
* Opmerking: Die seine van FAM-fluoressensie-kanale word op 60 ℃ versamel.
Interpreteer toetsuitslae

Kanaal

Interpretasie van resultate

FAM-kanaal

Ct≤35

PRV (gB) Positief

Ontdoen

PRV (gB) Negatief

35<Ct≤40

Suspicious resut, retest*
*If the retest result of FAM channel has a Ct value ≤40 and shows typical "S" shape amplification curve, the result is interpreted as positive, otherwise it is negative.
---
---